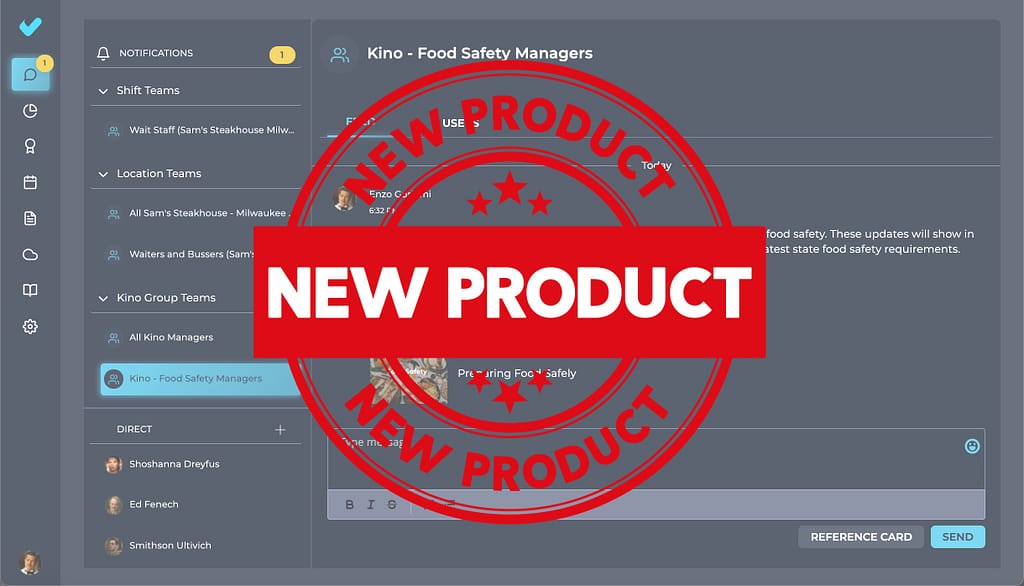 One communications platform for your team and your work
The latest module to our "All-In-One" secure platform for frontline operations is Instant Messaging & Notifications. We've reimagined a chat/IM app specifically for the needs of frontline operations, with more structure and connections to the rest of TrustPlace's knowledge and workflow modules.
Designed using Agile Organization concepts, TrustPlace Messaging facilitates non-email communication between teams and record the history of discussions all in one place. Notifications let people know that they have been assigned to Tasks and also if the Task is overdue.
Like other chat apps, we offer the ability for users to opt-in/out to simultaneously send emails for each message and notification.
Where we're distinct is the direct integration into our knowledge management module. You can attach Reference Cards to any message to share real-time knowledge. The native Reference Card Viewer is linked to the source card, showing you the "master" copy of each piece of knowledge. 
Support for Agile Organization Concepts in the Physical World
Instead of "Channels" as a way of organizing chats, we've focused on the heart of how things are organized in the physical world of industries with frontline operations: teams of people belonging to a physical location and teams of people (or interest groups) across locations.
This supports the deployment of Agile Organization Concepts – Squad, Tribe, Chapter, and Guild. In addition, we've created three distinct Group Types to match the typical way organizations with frontline operations operate and communicate:
Team (or Squad) – a group of staff at a location, usually organized by department or function
Location Groups (or Tribe) – groups of Squads/Teams at a location. If you are in a Team, you will automatically be added to a Location Group.
Cross Location Groups (Chapter & Guild) – these are Teams organized not by location, but by subject matter or community of members with shared interests. These are a group of people across the organization who want to share knowledge, best practices, and even more specific directives if a matrix organizational structure is in place. 
The Future Roadmap - Bulletin
This is the first module release of a major part of our platform which we call "Bulletin". Bulletin will be a comprehensive organizational module that will house information and communications based on its usefulness in terms of shelf life and importance across organizational groups and interest areas.
We're super happy to give you a demo of how you can improve organization communications while you digitize the way you operate – with TrustPlace.