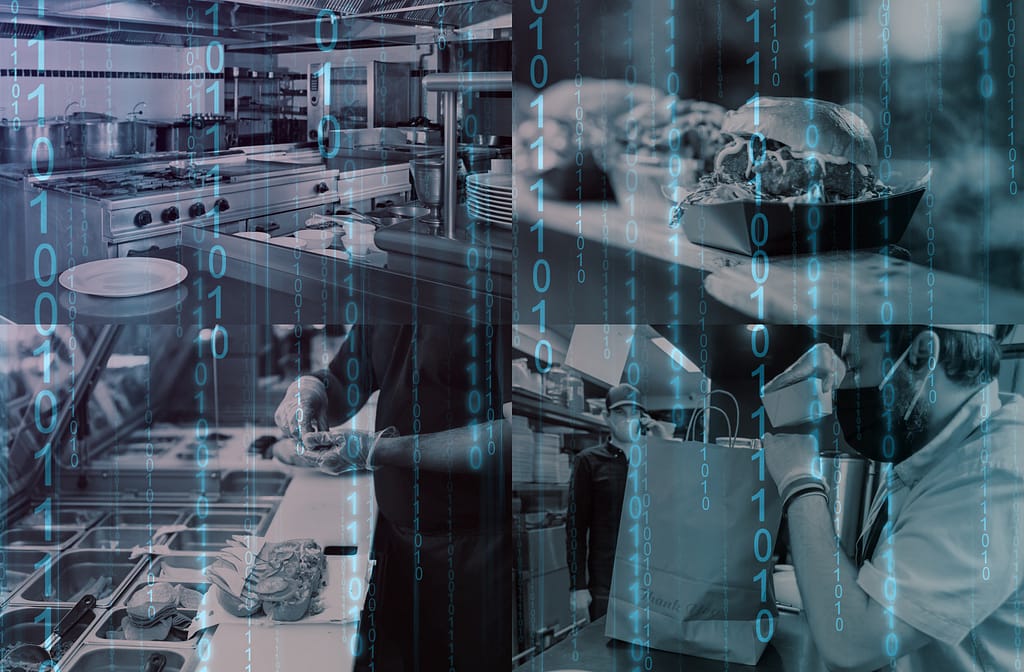 Restaurant and food service industry demand is projected to come back strong from the pandemic but changed in so many ways. The question is how operators will successfully change to capture this demand and create a competitive advantage during this critical period. Technology will play a large part in this rebuilding, according to many industry sources:
Hudson Riehle

, senior vice president of the research and knowledge group for the 

National Restaurant Association

, states that "the year ahead will be one of rebuilding. Looking ahead, 

we anticipate that restaurants will continue to double down on things that streamline operations

, diversify their offerings, and entice customers—think technology, seamless off-premises protocol and tools, meal kits, and more—all things we saw proliferate out of absolute necessity in 2020."

A recent survey of the food service & food retail industry by Panasonic

 found that 

71% cited digital transformation as very important to business agility

, more than any other factor, and 

100% of the survey respondents said COVID-19 has increased the urgency to adopt transformational technologies.

 
While the pandemic did accelerate food service's adoption of new technology, it's been mainly in the form of online ordering and delivery methods. How can the food service industry build a better operational foundation in the wake of this multi-modal crisis? How can digital technology improve the performance of frontline operations and onboard new talent during the rebuild?
What is Digitizing Operations?
What do we mean by digitizing restaurant and food service operations? Everyone is familiar with the use case and value of computerized POS integrated into order fulfillment in operations. But there are many opportunities to go further. And the results can be dramatic, especially in multi-unit enterprises where there are opportunities to scale best practices and improvements.
Let's explore three categories of digital applications in operations:
Knowledge in restaurant and food service operations consists of several types of information:
Policies

 – the "laws" that exist in an enterprise that everyone must know and follow

Standard Operating Procedures (SOPs)

 – standard ways of doing things

Work Instructions

 – detailed instructions on how to do something, including lists (prep lists, inventory, closing checklists)

Reference Material

– important information accessed while doing work (think of equipment manuals, vendor contacts, forms, and recipes)
All of this knowledge exists in some form – frequently in people's heads, in binders, in shared drives, and on pieces of paper in the back office. Digitizing this knowledge in an organized way increases the quality and the accessibility of information to management and staff. The dividend from knowledge digitization pays off by increasing operational flexibility, decreasing learning curves, boosting productivity and quality. This dividend goes even further in a climate of expansion into additional units, including ghost kitchens and new concepts.
The "Buried Value" in Your Organization There is buried value in your organization, one that you can quickly mine to improve how you operate, reduce mistakes, and ramp up new staff. It is information, but not traditional data or even
Read More »
2. Digital Work Management
Operating a restaurant or food service operation consists of several workstreams (prep, open, serve, sidework, close) and modes (dine-in, takeout, delivery, off-premise, ghost kitchen). The scheduling and "what" to do combined with "how" to do it is mainly done today with little or no systems support other than paper checklists and logbooks. It is highly reliant on tribal knowledge from experienced, skilled workers – the "pillars" of the operation. And it works well until it doesn't – remove those pillars, and productivity crumbles.
Digital Work Management helps by systematically digitizing the what and how to do the work and scheduling the workstreams across the modes of operation. The fact that it is "digital" doesn't necessarily mean that it is better at the margin than a greaseboard or clipboard. However, digital is more leverageable and scalable. The digital distribution of information is immediate and accessible anytime, anywhere.
Digital prompts, reminders, easily accessed resources are the answer to the problem of how to train today's frontline workers, supporting their successful performance.
3. Digital Records & Data Analytics
Restaurants and food service operations have many requirements for record keeping and data logging – some use cases are administrative (think: accounting, payroll). Still, many are operational in nature and required by local health departments. Some programs (like HACCP) are best practices for food safety. Other things, like a Manager's Log are essential to management oversight. The question for the operator is: are these records digitized? If not, then there is a real opportunity to improve. 
Digitized records help the food service operator by automatically tagging records (who logged the information, time stamps) to provide an audit trail. Digitized records are also easily accessible, require no physical storage, and most importantly – provide opportunities to report and analyze data for management and continuous improvement purposes.
Digital record keeping can also expand to recording progress against program goals, like OKRs (Objectives and Key Results) for restaurants. OKRs were created by CEO Andy Grove of Intel. Grove's simple but effective concept is explained by John Doerr: "The key result has to be measurable. But at the end you can look, and without any arguments: Did I do that or did I not do it? Yes? No? Simple. No judgments in it".
"Measurement is the first step that leads to control and eventually to improvement. If you can't measure something, you can't understand it. If you can't understand it, you can't control it. If you can't control it, you can't improve it."
Six Opportunity Areas for Restaurant & Food Service Digitization
We see six different areas for digitizing operations in multi-unit restaurants and food service companies:
Food Safety

. Ensure food safety protocols on handling, storage, and serving are standardized, accessible, trackable, and actionable.

Staff Training

. Systematically provide staff with onboarding and training material, augmenting training with accessible reference materials all in one place to prevent mistakes and fix problems.

Staff & Management Productivity

. Digitize the paper and document-based systems to reduce time spent managing documents and increase information flow to management for analysis. 

Customer Experience

. Be transparent to guests to understand health & safety protocols and standardize how they are taken care of throughout their dining experience from the first point of contact throughout their meal.

Facilities Upkeep and Maintenance

. Ensure your physical facilities are in top condition, including HVAC and kitchen equipment.

Multi-Unit Standardization

. Provide locations across your portfolio with the appropriate guidance, procedures, and KPIs needed to effectively run their property to group operating standards, accounting for local differences in operations.
Free Guidebook - "7 Ways to Digitally Transform Restaurant & Food Service Operations"
Get the free guidebook to view 7 examples of how you can use digital to boost productivity, quality, and safety across your location portfolio.
Restaurant & Food Service Operations: Digital Transformation with TrustPlace
Digital solutions can help you streamline all aspects of your operations, from worker knowledge and efficiency to Board of Health compliance to the maintenance of your physical locations. Given the flood of challenges currently facing the industry, implementing a digital productivity application into your operations is no longer a luxury – it is the way best-in-class operators will compete in today's world. With TrustPlace, you gain access to ready-made digital solutions for every operational challenge your organization might face.
Contact us today for a demo to start your digital transformation. Our no-contract, monthly pricing model allows you to start small and scale when you are ready.